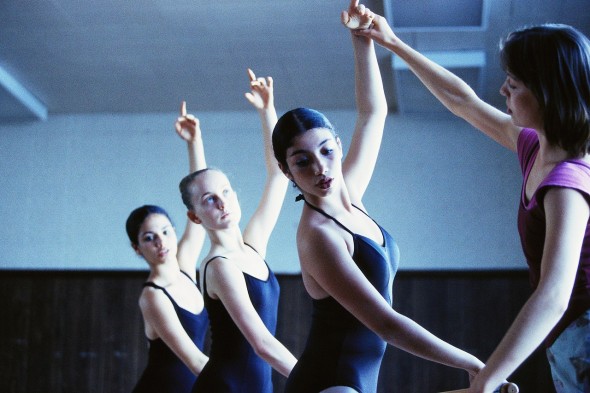 It's that in-between season for serious ballet classes in the St. Louis area. If you're an adult/teen ballet student looking for drop-in classes, many studios in the area are on break or have changed over to their summer intensives which require enrollment for the entire workshop. Here are a few suggestions to keep your technique strong until your regular ballet classes start up again. The ballet studios I mention here offer drop-in classes. COCA in University City does have some great adult/teen ballet classes right now, but you need to register for the entire summer or be a student or professional dancer to purchase a class punch card.
1. East West Ballet (Crestwood)
Kay Tabisaura-Hahn owns and runs this excellent studio located inside Crestwood Mall. Kay is a certified Royal Academy of Dance teacher and previously performed with Ballet Philippines and Singapore Dance Theatre. On Saturdays she teaches a beginning class from 8:45 to 9:55 am. On Sundays there is an intermediate class from 2:30 to 4 pm. Class cards are $53 for 5 classes or $12 drop in rate. If you're new to the studio, there is a $5 trial class rate. Kay is also offering an adult ballet workshop on Saturdays from 1 to 3 pm (June 25 through July 30). The workshop includes strengthening floor exercises, a regular ballet class, and a variation. If you're interested in the workshop, be sure to email info@eastwestballet.com to register. East West Ballet has a great noncompetitive environment, beautiful floor, and quality teaching. Your turnout will thank you! There are also spots available in the kids summer camps.
2. Caston Ballet Academie (Webster Groves)
Caston Ballet Academie offers adult/teen intermediate classes from 6 to 7:30 pm, Monday through Thursday, from now until July 21. The classes are taught by Lynette Khoo-Summers, Shannon Caston, or Akari Manabe (they rotate, so contact the studio if you're interested in a particular teacher's class). Akari's classes are particularly comprehensive, well-paced, and full of smart corrections. The only drawback on these classes is that the drop-in rate is $20!
3. Dance Center of Kirkwood (Kirkwood)
This gem of a studio has a dedicated group of adult ballet students and a wonderful teacher and owner, Kathleen Massot. The studio is currently on break but will be open July 5 through August 15. The adult ballet classes are offered on Wednesdays at 9:30 am and Saturdays at 1:15 pm. The drop-in rate is $12 per class. The adult classes are mixed levels, but tend to be geared towards advanced beginners and early intermediate students. These classes are a perfect place to gain some strength, back flexibility, musicality, and a clean tendu.
4. Bikram Yoga
What? That's not ballet. And why would I want to get heated to 105 degrees inside when it's hot and muggy already outside? I recently returned to Bikram yoga classes after several years off from it, and am happy at how it is affecting my ballet strength, flexibility, and endurance. The 90 minute sweat fest is not necessarily something I look forward to, but Bikram yoga's 26 postures definitely work your body thoroughly in parallel (even turned in), your mid and upper back, and your core. There is a tough mental aspect to Bikram yoga as most of the teachers tend to be boot camp-ish in approach. Regularly practicing this type of yoga can build your self-reliance and focus, both great skills for ballet. Bikram yoga studios in St. Louis include Yoga St. Louis and Prana Yoga. Both studios offer a $18 drop-in rate.
Are you an obsessive adult ballet dancer with a crazy work/family schedule in the St. Louis area? How do you get your fix in the summer?