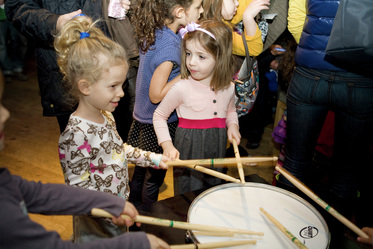 Baby Got Bach is back for another entertaining and free performance in St. Louis on February 18, 2012 at 10:30 am, Centene Plaza, 7700 Forsyth Road. Baby Got Bach is an engaging classical music interactive event for 3 to 6 year olds founded by internationally known pianist Orli Shaham. During the nearly two hour program, kids can explore real instruments, meet musicians from the St. Louis Symphony, sing familiar songs, play rhythm sticks and castanets, and hear a chamber music concert featuring works by Saint-Saens, Rimsky-Korsakov, Schubert, Bartok, and more.
Tickets
The community performance is free of charge thanks to the generosity of The Centene Charitable Foundation. Currently, the organization is accepting reservations from people who signed up for their mailing list last Fall. Online reservations will be open to the general public starting on February 6, 2012. All the spots for the November 2011 performance were filled within two days last Fall, so be sure to make advance reservations on the Baby Got Bach web site. There is a limit of approximately 80 children for the event and there will be a wait list available. Walk-ins without reservations may be admitted, space permitting.
Tips
* Parking is available for $2 per hour at the Centene Plaza garage. Street parking is free on Saturdays.
* The St. Louis Symphony, The Centene Charitable Foundation, and many individuals donate their time and funds to the nonprofit, Baby Got Bach. If you are able, please consider making a tax-deductible contribution to Baby Got Bach.
* The program may be a bit long for some 3 and 4 year olds, but the format is casual, so feel free to take your child out to the lobby for a break or snack if she/he needs it.
* There will be short intermission before the chamber music concert portion of the event.
* Make a morning/day of your outing and eat at the nearby, delicious, and family friendly restaurant, Half and Half. Be sure to try the veggie hash and fresh donuts! Half and Half is open 8 am to 2 pm on Saturdays.
* Questions? Contact Baby Got Bach through their web site.
About Orli Shaham, Artistic Director, Host, and Pianist
Orli Shaham got an early start in her music career. She began playing piano at age four, and got her first music scholarship when she was five. Just a couple years later, she began her studies at The Juilliard School with Herbert Stessin. That was the beginning of a flood of prestigious performances and awards, launching her international career. Ms. Shaham has performed with many of the world's great orchestras and has been lauded for her recitals at Carnegie Hall, the 92nd Street Y, and Lincoln Center, as well as many other renowned concert halls around the globe. Ms. Shaham has preschool twins Nathan and Alex and college-age stepsons Peter and Jonathan. She lives in St. Louis and New York with her husband, St. Louis Symphony music director David Robertson.
Photo: Ali Winberry