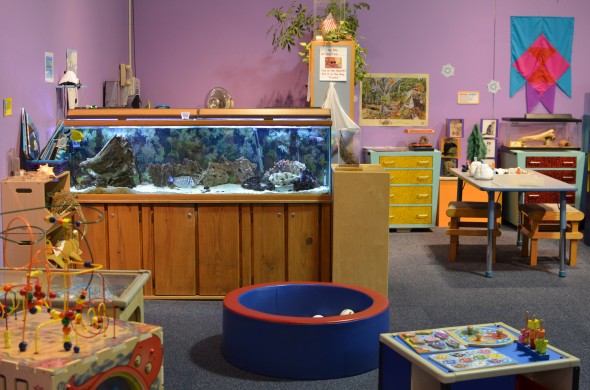 The Discovery Room on the second floor of the St. Louis Science Center is a brilliant room filled with magnets, water play, construction toys, cars, puppets, sound and music toys, pretend play items, doll houses, fish, books, arts and crafts, x-rays, and much more. Basically it is a pumped up preschool room filled with beautiful wonder for kids ages 2 to 6. You'll have to work a little bit at transitioning your child out of this fun place… they definitely won't want to leave.
Discovery Room sessions last 45 minutes and start at the top of the hour Monday through Thursday, 10 am to 3 pm; Friday and Saturday, 10 am to 4 pm; and Sunday, noon to 4 pm. Space is limited to 50 people (one adult chaperone for at least every four children) and the cost is $3.50 for adults, children, and seniors. Members of the museum get free Discovery Room admission depending on their membership level. General admission to the museum is free.
Some tips:
1. If you can, go on a weekday. There are usually only 10 kids or less playing in the room on most weekday mornings that we've visited. Avoid holidays, school breaks, and weekends. During those busy times, tickets are often sold out and the museum is crazy loud, so call ahead to confirm Discovery Room availability, 314.289.4424.
2. The bathrooms are a bit of a walk from the Discovery Room (at least it's far for your
four year old who has to stop and look at everything along the way). Make sure that you use the
restroom BEFORE your Discovery Room visit. Oh, and there is automatic flush in the bathrooms,
so bring those post-it notes or stickers to cover the sensors if your child is concerned.
3. The Discovery Room play session only lasts 45 minutes. Most likely, your child will only get to see half of the room during this time frame. Give ample warnings (i.e. "you have ten more minutes to play… what would you like to play with before we have to clean up?") before the session ends. For those with jumpy kids, the Discovery Room staff usually announces on a loud microphone that it's clean up time right when the playtime ends. Please note that they do not give time warnings.
4. There is limited food service during the week at the museum. Kaldi's Cafe (but not Pizza Hut) is open but their food isn't necessarily appealing to some little kids, so be sure to bring some of your own snacks.
5. There are lockers on the lower level for 25 cents so you don't have to schlep coats, bags, and the stuffed animals that your child insisted on bringing into the museum and then decided they didn't really want to hold.
6. Consider a membership if you plan on coming several times throughout the year. Parking is regularly $9 and the Discovery Room is $3.50 per person. With different levels of membership you can get both of these free as part of your member benefits.
Plus your membership donation is tax-deductible. If you work for a larger company,
your donation may be fully matched which bumps up your membership level and benefits.
7. If you are a member and you have unlimited free Discovery Room visits, you can play in the room more than once a day! Especially on the not-so-busy weekdays, we've played in the Discovery Room, had lunch in the cafe, and then went back to play again.
Museum Directions & Hours of Operation