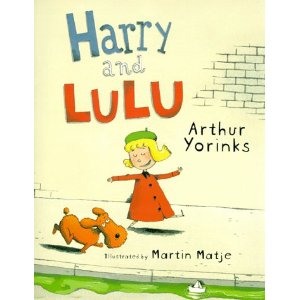 A little girl named Lulu desperately wants a new dog. Her parents give her a stuffed toy dog instead.
"Lulu went lulu."
Author Arthur Yorinks and Illustrator Martin Matje's Harry and Lulu is a very funny, touching, and subtly moving story about a little girl who wants a dog, gets a toy dog, ramps up her imagination (or ours?), learns to believe, and in the end finds herself loving what may or may not be real.
Harry the dog comes to life over night and begins his journey to convince Lulu that he is real. He declines the offered dog biscuits but opts for Lulu's pumpernickel bagel instead. They eventually end up in Paris where Harry claims he is from. While in Paris, Lulu tells Harry, "Now go away and do something… I don't want people to think I'm hanging around with a stuffed animal." The narrator poignantly fills us in with, "And though she could say and do all the mean things in the world to him [Harry], he still loved her and was loyal to her and, so as not to embarrass her, he walked around pretending not to know her but never once took his eyes off her."
Sound familiar?
Harry ends up saving Lulu from an oncoming car, lands in the Seine, and Lulu rescues him–finally convinced that Harry is her dog. Whether or not he is real doesn't really matter anymore.
I love, love, love the great dialogue in Harry and Lulu. The emphasis on certain words, the tempo, and the fun use of vocabulary will definitely delight your preschooler and you. The expressive illustrations are unique too. The artist Martin Matje depicts the body language of an opinionated little girl well, amplifying this perfect story.
Note, the phrase "Holy moly" is used in the beginning of the book. Feel free to substitute when reading aloud to your child… that is if you don't already say it every day.