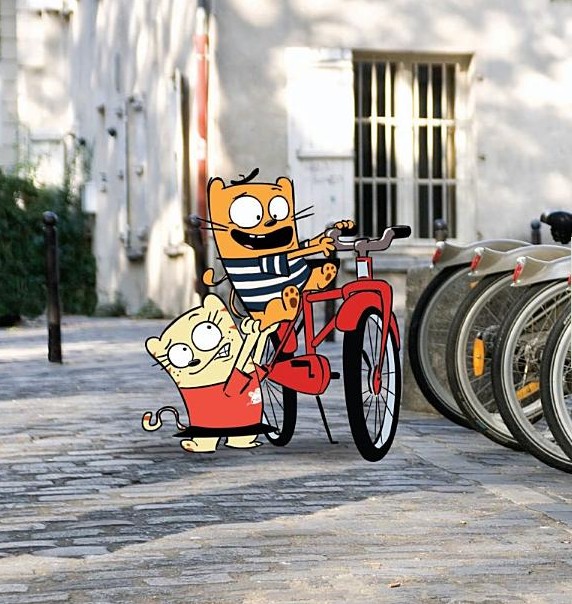 "Ollie and Moon are best friends. Moon loves surprises, and Ollie loves to surprise Moon. One time he surprised her with a spaghetti cake–for no reason. Another time he surprised her with a performance of Irish folk dance."
If this is your kind of humor, pick up a copy of the new book Ollie & Moon by Diane Kredensor, with photographs by Sandra Kress. Reminiscent of the Knuffle Bunny series that seamlessly juxtaposes urban photography with illustrations that pop off the page, Ollie & Moon is a sweet, funny, and well written children's book that is perfect for preschoolers.
The story features a boy cat named Ollie and a girl cat named Moon. Set in Paris, Ollie leads his friend Moon through a cheese store, the Metro, a fruit stand, a park, and the usual tourist destinations. Each place the two cats visit adds another clue so that Moon can attempt to guess her surprise.
Here is an example of how Ollie and Moon leave each location and head off for the next:
Moon says, "So my surprise is… ROUND and MUSICAL and it has LOTS OF COLORS." "True! But that's not all," Ollie said as they continued on their way.
My four year old daughter laughed out loud at the illustrations of the expressive animals, the tempo of the text, the detailed photography, the goofy events that happen (e.g. brie rolling down stairs and the image of an elephant on a unicycle juggling animals while playing the French horn), and of course guessing what Moon's surprise could possibly be.
After many wrong guesses, the story ends at a gorgeous carousel in Paris (did you guess right?) and Moon gives Ollie a big and joyful kiss. Ms. Kredensor writes, "And Ollie was so very happy that Moon hadn't guessed what it was–otherwise it wouldn't have been a surprise."
Ollie and Moon's creator, Diane Kredensor, is an Emmy Award winning artist who has worked on hit shows Pinky and the Brain, Oswald, and WordWorld. This is her first children's book and I hope to see many more to come. She is currently developing Ollie and Moon into a children's TV series as well.
Ollie and Moon is a wonderful book about surprises, friendship, and making others genuinely happy. Go find a copy at your local library or bookstore today. And maybe a wheel of brie and a croissant while you're at it.