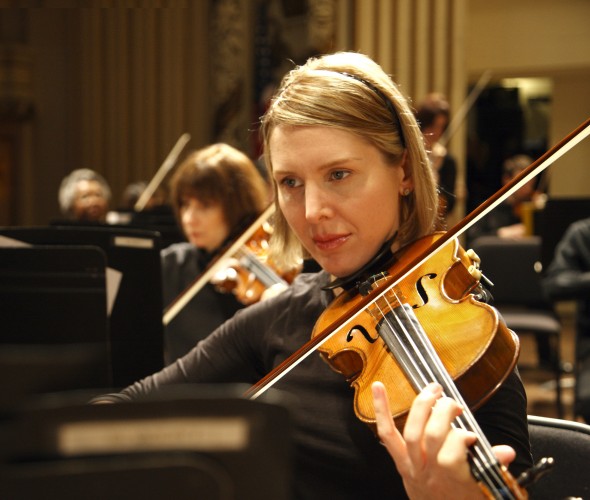 The St. Louis Symphony is right in your backyard but is also world renowned. Haven't seen them before or having difficulty picking a concert from their wonderfully full performance schedule? Here are some suggestions for both unique outings with the kids and stellar date nights. In particular, the date night concerts feature some not-to-be-missed incredible artists and repertoire. Unless otherwise noted, the following descriptions (and adjectives) of the performances are taken directly from the St. Louis Symphony web site.
Single tickets for most 2011-2012 concerts are available on Friday, August 12.
Information about the 2011-12 Season
Box Office and Ticket Information
Plan Your Visit
Powell Hall

Photo: St. Louis Symphony, Scott Ferguson
FAMILY CONCERTS
Warner Brothers presents "Bugs Bunny at the Symphony"
Saturday, September 10, 2011 at 7 pm
Sunday, September 11, 2011 at 2 pm
George Daugherty, conductor and creator
Bugs Bunny is back with the STL Symphony providing live accompaniment to your favorite classic Looney Tunes on the big screen. This exhilarating new version is perfect for the entire family.
httpv://www.youtube.com/watch?v=gJKwOCmx5Ww
The Composer is Dead
by Nathaniel Stookey with text by Lemony Snicket
Sunday, October 30, 2011 at 3 pm
Ward Stare, conductor
Bobby Norfolk, narrator
There's dreadful news from within Powell Hall–the composer is dead! Halloween weekend experience Lemony Snicket's murder mystery whodunit, where the instruments are the suspects and no one will go unnoticed.
httpv://www.youtube.com/watch?v=lPBDHnlhvSQ
Mozart's The Magic Flute (abridged)
In partnership with Opera Theatre of Saint Louis
Sunday, January 15, 2012 at 3 pm
Ward Stare, conductor
Endlessly inventive, charmingly fantastical and utterly unique, Mozart's final opera is a lighthearted tale of love and the art of birdcatching. The STL Symphony presents a special condensed version for kids featuring Opera Theatre of Saint Louis Young Artists.
Disney in Concert: Magical Music from the Movies
Saturday, February 11, 2012 at 7 pm
Sunday, February 12, 2012 at 2 pm
Ward Stare, conductor
Fun for the whole family! Enjoy a concert of symphonic arrangements from The Walt Disney Studio vault. Disney in Concert features music, film clips, and artist renderings showcasing a variety of musical scores from popular Disney movies including Mary Poppins, The Lion King, The Huntchback of Notre Dame, and more.
DATE NIGHT CONCERTS (or, go by yourself!) WORTHY OF BABYSITTER MONEY
An American in Paris
Friday, September 30, 2011 at 8 pm
David Robertson, conductor
Ward Stare, conductor
Edgar Meyer, double bass
IVES Central Park in the Dark (Culture Mama note: This isn't performed very often. Brilliant unraveling kind of music.)
COPLAND Suite from The City (with film accompaniment)
MEYER Double Bass Concerto No. 3 (World Premiere)
GERSHWIN An American in Paris
David Robertson leads an All-American program full of favorites complete with Gershwin's depiction of an American's escapades through the "City of Lights" and Copland's first film score, The City, presented live with film. Edgar Meyer, reigning virtuoso of the double bass, makes his STL Symphony debut performing the world premiere of his astounding third double bass concerto.
Enigma Variations
Friday, October 21, 2011 at 10:30 am (Coffee Concert)
Saturday, October 22, 2011 at 8 pm
Sunday, October 23, 2011 at 3 pm
Vasily Petrenko, conductor
Olga Kern, piano (Culture Mama note: I worked with this wonderful pianist in DC at her Kennedy Center debut and have been continuously amazed at her strength, smarts, and gorgeous playing.)
RACHMANINOFF The Isle of the Dead
CHOPIN Piano Concerto No. 1
ELGAR Enigma Variations
Elgar's mysterious Enigma Variations are full of familiar and gorgeous melodies including the popular "Nimrod." Paired with pianist Olga Kern performing Chopin's dazzling Piano Concert No. 1, you'll be humming the marvelous tunes of this program for days.
Christine Brewer sings Strauss
Friday, January 13, 2012 at 8 pm
Saturday, January 14, 2012 at 8 pm
David Robertson, conductor
Christine Brewer, soprano
DVORAK Symphony No. 7
CRUMB A Haunted Landscape
R. STRAUSS Four Last Songs (Culture Mama note: one of my favorite works)
The St. Louis Post-Dispatch declares that "there is no one today who sings Richard Strauss' soprano roles better than Christine Brewer – period."  Hear the St. Louis phenomenon performing Strauss' stirring Four Last Songs, his final complete work, and David Robertson conducting Dvorak's splendid Seventh Symphony.
httpv://www.youtube.com/watch?v=AGwyYGYk538
Hubbard Street Dance Chicago (Culture Mama note: Yes! Dance with live music.)
Friday, February 17, 2012 at 10:30 am (Coffee Concert)
Friday, February 17, 2012 at 8 pm
Saturday, February 18, 2012 at 8 pm
Sunday, February 19, 2012 at 3 pm
David Robertson, conductor
Hubbard Street Dance Company
St. Louis Symphony welcomes back the famed Hubbard Street Dance Chicago as one of the highlights of this exciting season exploring the synergy between music and dance. The internationally recognized troupe, returns to St. Louis after performing to sold-out audiences in 2009.
Bach Mass in B minor
Saturday, March 31, 2012 at 8 pm
Sunday, April 1, 2012 at 3 pm
David Robertson, conductor
Susanna Phillips, soprano
Kate Lindsey, mezzo-soprano
Nicholas Phan, tenor
Stephen Powell, baritone
St. Louis Symphony Chorus
Amy Kaiser, director
Composed in the final year of Bach's life, the monumental Mass in B minor inspires audiences regardless of background as a spiritual masterpiece. David Robertson leads the combined forces of the St. Louis Symphony and Chorus for this powerfully transcendent work.