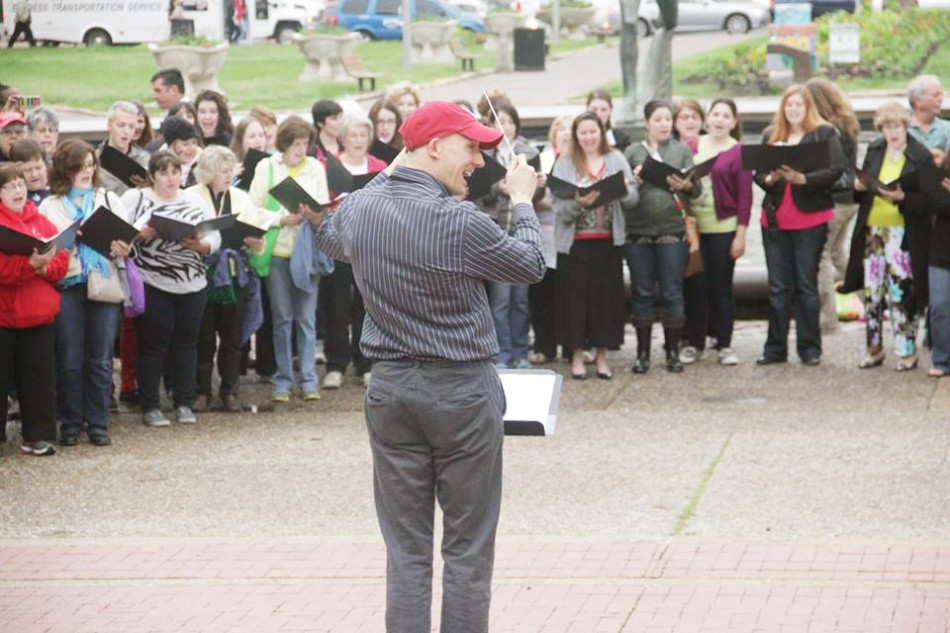 Have you ever wanted to sing with Opera Theatre of Saint Louis (OTSL)? The brilliant opera company presents "Spring Sing!" on Saturday, May 9 at 12:30 pm at the Missouri History Museum, 5700 Lindell Boulevard. This fun and informal event brings together professional singers of OTSL and hundreds of community participants from diverse backgrounds for an annual "spontaneous" concert at an iconic St. Louis location.
In addition to main season artists, Spring Sing! features special guest appearances from internationally acclaimed mezzo-soprano Denyce Graves and world renowned soprano Christine Brewer, who receives her star on the St. Louis Walk of Fame this month. Both performed as part of the #WithNormandy: A Concert for Peace and Unity event, which raised nearly $5,000 for the "Friends of Normandy" scholarship fund in September 2014. Members of the Normandy High School Choir, under the direction of Duane Foster, perform as part of the community choir, along with members of the Central Visual and Performing Arts High School Choir under the direction of Addie Akin. OTSL chorus master and head of music staff Robert Ainsley conducts the 30-minute concert, which features classic opera choruses from Verdi and Mozart, as well as traditional choral selections from the American songbook.
No auditions are needed and anyone age 15 and up is welcome to join. Music and listening tracks are provided in advance to make the learning process enjoyable. Participants also receive the OTSL Company Discount on single tickets for the 2015 Festival Season.
Please register by April 24 as space is limited. Once registered, please visit the Spring Sing Resource page. For more information or questions, please contact Dan Mayo at dmayo@opera-stl.org or 314.963.4251.
More an avid listener and not a singer? Spring Sing! is open to the public for anyone to listen and enjoy so feel free to bring your little ones to experience this great 30 minute concert. Make a day of it with a visit to the Saint Louis Art Museum or the Saint Louis Zoo before or after Spring Sing!
Register for Spring Sing!
Spring Sing! Resources Page
Spring Sing! Schedule
Rehearsal: Members of Spring Sing! need to attend either one morning (10 am to 1 pm) or one afternoon (2 pm to 5 pm) rehearsal on Saturday, May 2 held at Opera Theatre's Sally S. Levy Opera Center (210 Hazel Ave, 63119 in Webster Groves). To ease the logistics of learning music and rehearsing, OTSL will send you a recording that teaches your part in advance.
Performance: The performance will take place at the Missouri History Museum on Saturday, May 9 at 12:30 pm.
Photo: Philip Deitch