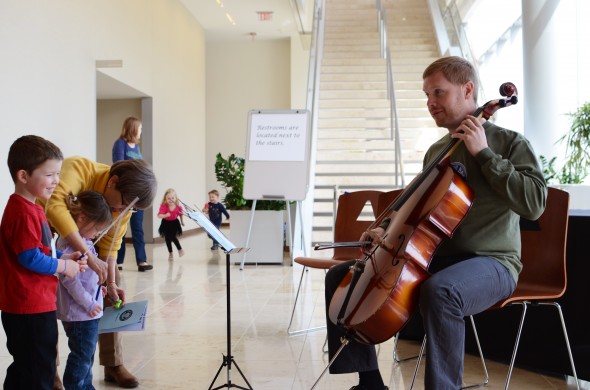 Have you and your child experienced Baby Got Bach yet? This entertaining and high quality production returns to St. Louis on Saturday, November 24, 2012 at 10:30 am, Centene Plaza, 7700 Forsyth Road. Baby Got Bach is a classical music interactive event for 3 to 6 year olds founded by internationally known pianist Orli Shaham.
The first 30 minutes of Baby Got Bach features Backstage Up Front in the lobby area, where children can explore real instruments, learn about sound, and meet musicians from the St. Louis Symphony. Immediately following in the performance hall, audience members sing familiar songs, play rhythm sticks and small percussion instruments (this is a bit of the "get out the wiggles" portion of Baby Got Bach), and hear a chamber music concert. The concert portion features pianist Orli Shaham, St. Louis Symphony percussionist Thomas Stubbs, and other St. Louis Symphony musicians.
Johann Sebastian Bach: Invention in C Major
Nikolai Rimsky-Korsakov: Flight of the Bumblebee
The Baby Got Bach performance is FREE, but advance reservations are strongly recommended. Online reservations can be made starting on Monday, November 12, 2012 at noon. All the spots for previous St. Louis performances were filled within one or two days, so be sure to plan ahead! Seating is limited. Walk-ins without reservations may be admitted, space permitting.
* Paid parking is available at the Centene Plaza garage. Street parking is free and fairly ample on Saturdays.
* The program runs from 10:30 am to about 12:10 pm, so it is prime snack or lunch time for many young children. The format is casual, so feel free to take your child out to the lobby for a break or snack if she/he needs it.
* The concert will include music by living composers. This is a great opportunity to point out how all the music we hear everywhere in movies, television, commercials, games, etc… is written by someone and how kids can learn how to compose music too.
About Orli Shaham, Artistic Director, Host, and Pianist
Orli Shaham got an early start in her music career. She began playing piano at age four, and got her first music scholarship when she was five. Just a couple years later, she began her studies at The Juilliard School with Herbert Stessin. That was the beginning of a flood of prestigious performances and awards, launching her international career. Ms. Shaham has performed with many of the world's great orchestras and has been lauded for her recitals at Carnegie Hall, the 92nd Street Y, and Lincoln Center, as well as many other renowned concert halls around the globe. Ms. Shaham has 5 year old twins Nathan and Alex and college-age stepsons Peter and Jonathan. She lives in St. Louis and New York with her husband, St. Louis Symphony music director David Robertson.
Photo by Jennifer Lin.

Backstage Up Front at Baby Got Bach, with St. Louis Symphony cellist Bjorn Ranheim, February 2012.