It's Mother's Day weekend! Okay, so I had to make my own Mother's Day lunch reservation and send my husband a link to a gift I had my eye on… but I will take whatever bit of relaxation I can get over the weekend, even if it was self-initiated. Here are some family friendly places and events to experience May 7 and 8: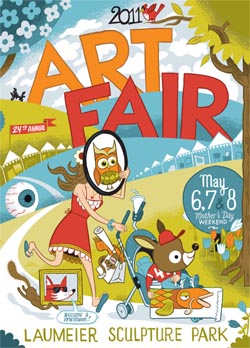 1. Art Fair at Laumeier is a fun family event where you can view a wide variety of art for sale and talk with the artists. While you are at  the fair, enjoy the live music, children's activities, concessions (lines can be long), and of course the sculptures throughout Laumeier Sculpture Park. Head into the Eastern Woodland area for a quiet break from the Art Fair mania. Parking can be tough and far away from the entrance, so consider being dropped off with the kids (and have your loving husband go park) or bring your stroller/baby sling. $8 for adults, $5 children ages 6-11, and children under age of 6 are free. May 6, 7, and 8. Read more about enjoying the Laumeier Sculpture Park with kids in my St. Louis Sprout & About article.
2. St. Louis Storytelling Festival. On Saturday, May 7, the annual festival presents many free, family storytelling events throughout the day. No reservations required. By the St. Louis Arch.
3. Cinco de Mayo Celebration on Cherokee Street. Saturday, May 7, 11 am to 9:30 pm. Floats, minstrels, puppets, Elvis impersonators, drag queens, Mexican wrestlers, robot makers, live music, art demonstrations, mask making, and more, are sure to generate some wide eyed kids. Go celebrate the vibrancy of Cherokee Street and the neighborhood's Mexican heritage.
4. Citygarden. Free and open daily from sunrise to 10 pm, Citygarden is a beautiful spot to interact with outdoor art (touching is okay), play with water on a warm day, climb stairs, skip, hop, and run. Bring snacks or lunch (the cafe food is just okay and kind of overpriced for what you get).
5. Grant's Farm is open for the season! The park is open this Saturday from 9 am to 4 pm and Sunday from 9:30 am to 4 pm. Enjoy a fun tram ride while viewing the animals, see giant turtles, watch the elephants, ride the carousel, feed the crazy baby goats, and sample a beer. Also don't miss the famous Clydesdales on your way out near the parking lot. $11 for parking and free admission. Fees for feeding the ravenous goats, riding the carousel, and concessions.