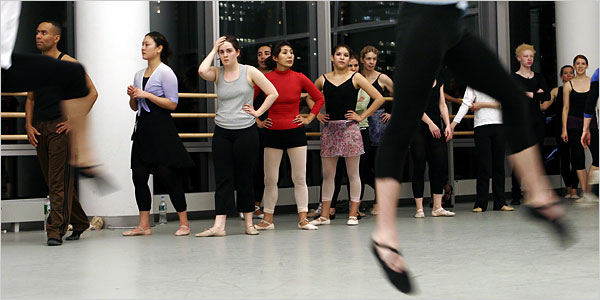 St. Louis doesn't seem to have a big audience for serious ballet study, and most programs are geared towards young children and high school students. If you are looking for ballet class for adults (beginners, returning students, college students coming home for a visit, etc…), here are a few good studios to try. A side note: in some cases, these web sites do not accurately represent the dance studios, so try to look beyond the design (or lack thereof).
Caston's Ballet Academie: Located in Webster Groves, Caston has some fine teaching for beginners and intermediate dancers. I recommend the Friday at 4:30 pm class and the Saturday at 10 am class. Both are advanced beginning, maybe early intermediate levels and are attended by mainly teenagers and several adults (Saturday class). Teachers Yulia, Lynette, and Akira are wonderful with adults. The downside of this studio is that classes are quite expensive. The drop in rate for adults is $20 a class and can go down to about $16 class if you sign up for an entire semester. Pricing information.
East West Ballet: Located at the Dance Co-op St. Louis inside the Crestwood Mall, East West Ballet is run by Kay Tabisaura-Hahn, a certified Royal Academy of Dance teacher. The adult ballet classes are held on Saturday mornings starting at 9 am. The intermediate class starts at 10 am. Kay is an incredibly comprehensive teacher who is patient, creative, and uses beautiful music. These classes are very small so far, so be prepared to have individualized attention. The studio floor is fairly hard, marley on top of a rubber mat on top of cement, so be careful if you have any knee issues. East West Ballet offers a trial class for $5 and adult drop in rates are currently $8 to $12 a class depending on how many you buy at once. Schedule and pricing information.
COCA (Center of Creative Arts): COCA is the glamorous one of all (i.e. big and well funded). Located in University City, COCA is a nonprofit multidisciplinary and multicultural arts organization who provides performing and visual arts education classes, performance opportunities, professional development, a theater, exhibition space, and an outreach program for low income youth. It's huge 60,000 square foot space gives you some expansive dance studios filled with natural light and great flooring.
Many of the adult ballet classes feature a live pianist which makes ballet so much more dynamic and time efficient (no fiddling with the CD player!). I've had classes with Carrie, Christine, Kathleen, and Octavio so far, and they have all presented well planned, fun, humorous, and smart classes. Carrie teaches an excellent beginning class on Sundays at 2:30 pm (I don't think there is another Sunday ballet class in St. Louis) and Christine offers brilliant corrections in her Tuesday at 7:30 pm intermediate class. I don't believe Kathleen is teaching adult ballet this semester, but if you do get a chance to take her class at some point, she is fabulous and challenges your memory skills and core strength. I only had one class with Octavio this past summer, but he had a wicked sense of humor and presented such thoughtful combinations with an important focus on breath and fluidity.
Classes are expensive (a recurring theme with ballet in St. Louis, a side effect of not having a large enough audience). When you become a COCA member (tax-deductible contribution) at a certain level, you can get a small discount on semester registration and do not have to pay the registration fee. So technically, classes are approximately $16 to $20 class depending on your COCA member status. They do have a drop-in card but it is reserved for professional dancers and college students, although if you ask permission you can sometimes buy a class card ($180 for 10 classes, expires in one year) in addition to already being registered for one class. They have a flexible make-up class policy.
COCA's 2010-2011 Classes Guide
Happy dancing and keep that ice pack handy.