Sponsored by the Centene Corporation, Baby Got Bach in St. Louis is an interactive concert series for kids age 3 to 6. Experience this free, entertaining program praised by the Wall Street Journal, New York Magazine, and hundreds of parents, on Saturday, November 26 at 10:30 am, Centene Plaza, 7700 Forsyth Boulevard. Orli Shaham, a local musician, internationally known pianist, and busy Mom of twins is the founder and artistic director of Baby Got Bach. She will be joined by a quintet of wind players from the St. Louis Symphony.
Although free tickets for this event have already all been distributed as of Sunday, November 20, you may add your name to the Baby Got Bach mailing list to receive information about other upcoming St. Louis concerts on February 18 and April 21, 2012 at 11 am (note the April date is tentative), also at Centene Plaza in Clayton. If your kids are flexible, you can still go to the Saturday, November 26 event without a confirmed reservation and possibly be admitted as space becomes available. I'm sure that not all the people who have confirmed reservations will actually show up (the initial maximum capacity on the event was approximately 200 people). Such is the nature of last minute life with kids, holidays, and of course when tickets are free.
Parking is available for $2 per hour at the Centene Plaza garage. Street parking is another option and is free on Saturdays.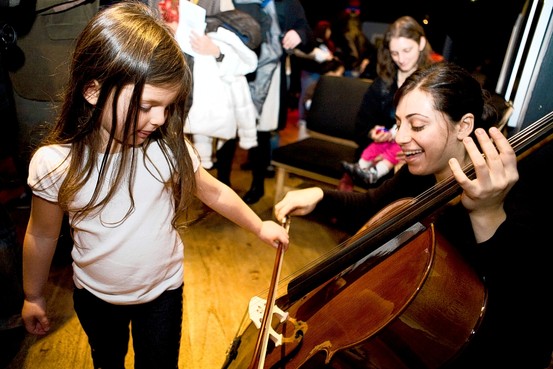 About the event
The first 30 minutes of Baby Got Bach gives kids an opportunity to visit four musical activity stations where they can meet musicians, play with instruments, conduct, and explore music concepts. This portion is followed by a ten minute "jam session" in which the musicians perform songs like "Twinkle, Twinkle" and "Row, Row, Row Your Boat," while audience members have a percussion instrument to play. Musical terms such as forte and piano will be taught (if your child watches the Disney Jr. show, "Little Einstein's," or is a Kindermusik student, she/he will be in the know!). Baby Got Bach concludes with the main stage concert program featuring the following brief pieces:
Bach: Invention in C Major
Berio: Opus Number Zoo (first movement)
Beethoven: Variations on "La ci darem" (selections)
Schumann: Fantasy Pieces (no. 3) for clarinet and piano
Mozart: Quintet for piano and winds (third movement)
Ligeti: Bagatelles No. 1 & 3 for wind quintet and piano
Rimsky-Korsakov: Flight of the Bumblebee (transcription for wind quintet and piano)
Baby Got Bach brings much joy, fun, and a quality musical experience for the preschool set and their caregivers. If you are able, feel free to make a tax-deductible donation of any amount to this worthwhile nonprofit organization.
About Orli Shaham, Artistic Director, Host, and Pianist
Orli Shaham got an early start in her music career. She began playing piano at age four, and got her first music scholarship when she was five. Just a couple years later, she began her studies at The Juilliard School with Herbert Stessin. That was the beginning of a flood of prestigious performances and awards, launching her international career. Ms. Shaham has performed with many of the world's great orchestras and has been lauded for her recitals at Carnegie Hall, the 92nd Street Y, and Lincoln Center, as well as many other renowned concert halls around the globe. Ms. Shaham has preschool twins Nathan and Alex and college-age stepsons Peter and Jonathan. She lives in St. Louis and New York with her husband, St. Louis Symphony conductor David Robertson.
Photo: Ali Winberry