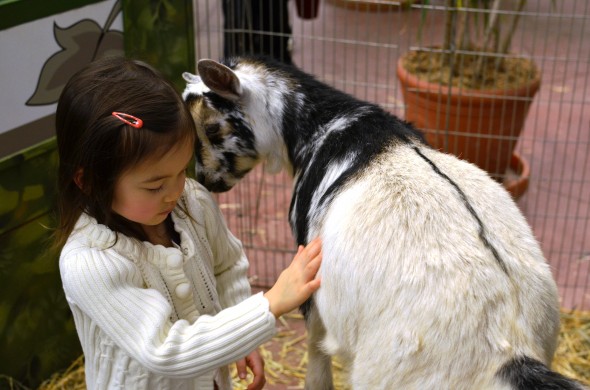 After the Easter celebrations are over, what to do indoors on a rainy day when most places are closed in St. Louis? Here are some family friendly places that are open on Easter Sunday.
Children's Zoo at the St. Louis Zoo
One part of the children's zoo is indoors. It's a great place for a little climbing, pretend play, watching and petting animals, and scooping sand. Also be sure to check out the free indoor Bird House (separate from the Children's Zoo). There are some incredible and crazy looking birds in here.
Open 9 am to 5 pm.
$4 per person. Children under two are free.
Free for certain member levels.
Admission for Children's Zoo is free the first hour the Zoo is open.
CAM (Contemporary Art Museum)
A just right amount of art and images for your little one. Be sure to go upstairs to explore the books, puzzles, and overall space.
Open 11 am to 4 pm
$5, adults  |  $3, seniors  |  Free for children, students, and members
St. Louis Art Museum
A fun place to just roam. Be sure to download some of the museum's family gallery guides for ideas to keep your kids engaged.
Open 10 am to 5 pm
Free
Climatron at the Missouri Botanical Garden
After splashing outside in some puddles, head over to the indoor and warm Climatron building for some tropical plant viewing and family fun. Towards the exit of the Climatron is an excellent education room featuring numerous kid geared puzzles, puppets, magnets, pretend play, coloring, books, and more.
Open 9 am to 5 pm
$8, age 13 and up  |  $4, St. Louis City and Country Residents  |  $3, St. Louis City and County Senior Residents (65+)  |  Free, Members and Children (12 and under)
Butterfly House
Experience thousands of butterflies whirling about inside this beautiful conservatory. (Or view the hallway exhibits featuring "enclosed in plexiglass insects" while your family enjoys the conservatory if you're bug phobic!)
Open 9 am to 4 pm
$6, general  |  $4.50, seniors  |  $4, children 3 to 12  |  Free, children 2 and under and MO Botanical Garden members
Photo: Jennifer Lin