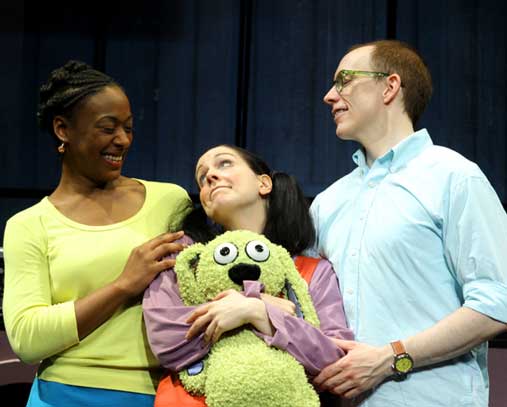 In addition to being a great arts education facility, the Center of Creative Arts (COCA), located in University City, has a fun and entertaining performing arts series with reasonable ticket prices, good programming, and a small hall (400 seats) that makes each performance easy to see and enjoy.
We saw Michael Moschen last weekend–a juggler extraordinare and MacArthur Foundation "genius" grant recipient. He demonstrated some incredible feats of physics, illusion, perception, and rhythm. The show seemed more suitable though for 8 year olds and up. Most of the preschoolers in the audience at the Sunday matinee were getting a little squirmy and bored (including my 3.5 year old–but she'll sit through opera, go figure), although the show was billed as a performance for all ages. Be sure to ask the COCA staff if you're unsure about age suitablity and do some of your own research about the artist or performing group before you buy tickets.
Most performances are about an hour long. Tickets range $14 to $18 each (everyone entering the theater must have a ticket). Arrive at least 10 minutes early to find parking and well, 20 minutes early if your kid needs to use the potty. The COCA parking lot fills up fast and street parking can be tough at times.
Two upcoming productions you'll want to bring your preschooler to this season (be sure to read the original books with your child before going):

COCA Family Theatre Series 2010-2011 Season Brochure
Seating tips
There are booster seats available in the coat room outside the theater doors.
Try to buy your tickets early so that you can get an aisle seat (if you anticipate that you'll have to take your little one out for a potty break mid-performance). Each seating section does not have a center aisle (see web site for seating chart–scroll down to Founders' Theatre seating chart), so it is at times tough to climb over a lot of people if you have to head out before the show ends.
The padded and cushioned seats fold up like in a lot of movie theaters. If your child is under 35 pounds, he or she probably won't be able to lean back in their chair and not fold up! Be prepared to hold the seat down for your child throughout the performance or put them on your lap.
If you can, don't buy tickets too far over to the right or left. Your neck will thank you.