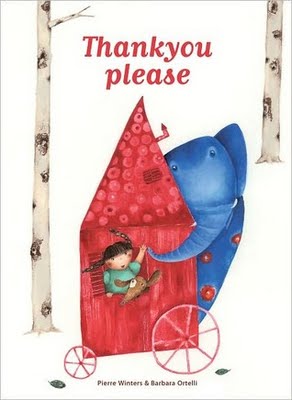 I'm a big fan of Clavis Publishing whose children's books are always uniquely illustrated and the stories thoughtful, clever, and sometimes unexpected.
One of Clavis Publishing's new titles is Thankyouplease written by Pierre Winters and illustrated by Barbara Ortelli. This 2011 Dutch book translated to English is about a six year old girl named Nina who "has a big mouth… is often grumpy and talks back." Her Mommy tries to teach Nina good manners and to be polite so that more people will "see how sweet you can be and want to play with you."
After yet another grumpy outburst, Nina is asked to go outside to calm down. While walking around, Nina hears someone call her name, but the voice is coming from inside a tree. When Nina looks inside the tree, she discovers a magical circus filled with elephants, a dog riding a bicycle, balance beams, trapeze artists, lions, cotton candy, and of course a ringmaster whose name happens to be "Thankyouplease." Nina has stumbled upon the "Circus of Good Manners" where all practice good manners.
The story brilliantly and whimsically talks about greeting people, waiting patiently, saying please and thank you, helping others, and taking turns. After experiencing the mysterious circus, Nina wakes up from her dream (or was it real?) and is very sweet and polite with her Mommy. She tells her, "I am sure that you've prepared a delicious dinner. Shall I set the table, Mommy?"
Sounds just about right.