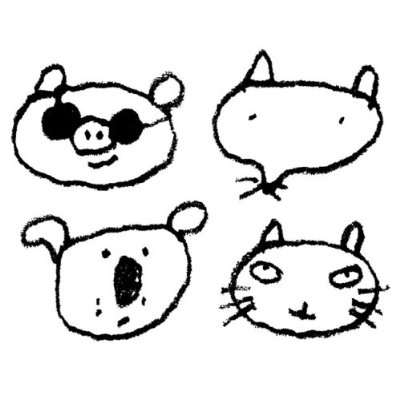 Recently, my three-year old daughter has started enjoying coloring more. She is mildly interested in the coloring sheets that come with the kiddie menus at restaurants and the handful of Miffy pages I've printed from web sites (although we love Miffy books!). She doesn't really care much for Melissa and Doug coloring pages or TV character pages. But for some reason, Taro Gomi doodling and coloring books hold her concentrated attention for 30 minutes plus. Yes, that's enough time to have a real conversation with someone or cook most of your dinner!
The author of Everyone Poops and other books, Taro Gomi is an award-winning writer and illustrator. His doodle, scribble, coloring, activity, and painting books and postcards will keep 3 to 7 year olds engaged. The clean line drawings are bold, expressive, and humorous with ample space to color and also space for embellishing (some of the pictures ask kids to add worms or apples to certain scenes for instance). If you love white space, these books are for you, uh, I mean your child. Some of the Taro Gomi books focus more on learning how to draw/doodle while others are geared more towards preschoolers who just want to color, draw simple lines, or practice counting. There is usually a nice balanced assortment of different age appropriate pages in each volume.
Here are some sample Taro Gomi color pages to download on Chronicle Books' site.
Here are a few of our favorites to buy:
Doodles: A Really Giant Coloring and Doodling Book
Doodle 123!: A Really Giant Doodling and Drawing Book
Doodle All Year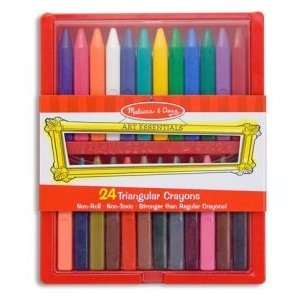 Be sure to check Amazon for good prices on Taro Gomi titles and possibly Barnes and Noble or Borders if you have a coupon. Many of these books are pretty thick and heavy, so feel free to remove a few pages for a restaurant outing.
We also like the Melissa and Doug triangular crayons for color, durability, and no paper wrapper to peel away.