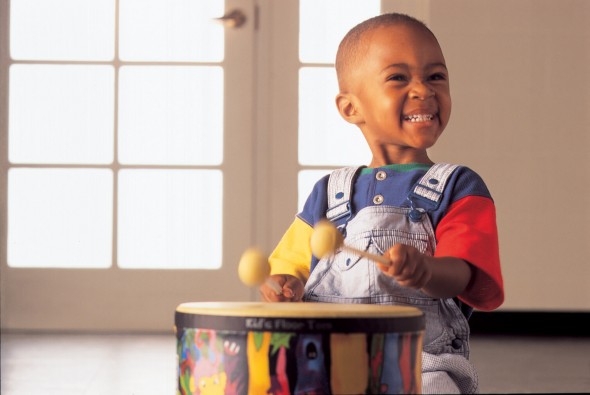 Do you like to listen to soul, jazz, and global music or are you more of a classical and folk song kind of fan?
In the St. Louis area, Robert's Music Together (tends to be more soul, jazz, global music focused) and Lori Burkhardt's Kindermusik classes (more classical and folk music oriented) are both excellent options for preschooler music classes. We've taken Robert's mixed ages class (infant to 4 year olds) for a ten week session and he is engaging, funny, and genuinely great with kids. We've also taken Lori's Kindermusik classes for about a year (in addition to taking Kindermusik in California for a year) and liked how consistent her classes are, how nicely the activities flow (think Mary Poppins singing through her day and tasks), and how organized she is.
Here are some thoughts about Music Together and Kindermusik.
1. I really want to emphasize how genuine Robert is in his teaching. Robert enjoys sharing music with people, isn't easily ruffled by whacky kid moments, and has an open heart. I've heard from a lot of parents that Robert was the first teacher their child had hugged. This is big!
2. The typical class format is 45 minutes of a greeting song, rhythm patterns, pitch play, instrument play (rhythm sticks, egg shakers, bells, etc…), movement, lullaby time, and a goodbye song. The order of these varies from class to class. Robert brings his guitar and banjo to class, in addition to integrating recorded music. I think it's really important for kids to see real musical instruments being played especially in our digital life. There is something very tangible and wonderful about hearing an instrument resonate in person.
3. Some of the songs in Music Together are very rhythmic, have a lot of fast syllables in the text, and in some ways are designed for people who don't have much of an ear. Think of it as chanting/singing songs more than soaring melodies (which Kindermusik does tend to lean towards).
4. One of the Music Together locations is at Shirlee Green Preschool (Robert has two other class locations in St. Louis). The room has a nice big sunny window, new facilities, and clean bathrooms. Also, because it is located in a fairly large preschool, there is a security door at the entrance.
5. A Music Together session meets 10 times and costs $165 total. This is pretty much on par with other kids classes in the area.
6. Robert's Music Together tends to be more focused on not so structured play than definite music knowledge. What the class seems to be best at is encouraging your child to enjoy music (with you), see how she/he can create it, and experiencing sound/rhythm/movement in a social setting. All very valuable experiences!
1. Lori has been teaching Kindermusik classes since 1995 and is really at ease with all sorts of things that come up in her classes (i.e. the kids that decide they are going to start a game of tag during music class, the cutie pie toddler who refuses to get out of Lori's lap, or the child that starts screaming and sobbing at every transition point and does so for eight lessons in a row, etc…). She is good at reassuring parents that children learn in different ways and encouraging to let the process unfold at its own pace.
2. Lori's typical class format for the 1 1/2 to 3 1/2 year olds is 40 minutes of a greeting song, instrument play (rhythm sticks, egg shakers, bells, xylophones, toy cars, etc…), active listening, specific movement (e.g. fast/slow, high/low, staccato/smooth), pretend play with objects like hula hoops, storytime, lullaby time, a goodbye song, and hand stamps. The order of these can vary from class to class.
3. As I briefly mentioned above, Kindermusik songs are quite melodic and easy to remember. The Kindermusik curriculum finds some really catchy yet beautiful melodies that you can sing over and over and over and over with your child. Many of the songs also relate to everyday activities like cooking, laundry, waking up, riding in the car, and more.
4. We took Lori's Kindermusik class at the Webster Groves Presbyterian Church and I must admit, the room is tiny (not much room for movement), and is in need of new carpeting, a paint job, and happier lighting. There is no window in the small room.
5. A Fall or Spring session meets 15 times and costs about $240 which breaks down to $16 per class. For my 3 year old daughter, I felt like the 15 class session was a bit long.
6. Curriculum wise, you can't go wrong with Lori's Kindermusik classes. It is beautifully thought out from a pedagogy standpoint (yeah, I'm the nerd who went to music school and listened to Mahler all the time instead of going to the bars after finals) and smart in its organization. Your child will definitely gain language, cognitive, emotional, physical, social, and musical abilities during Kindermusik. Lori does a great job at actively engaging kids with sound, sight, touch, and speech within a rich learning framework.
So if you're on the fence, I would recommend taking a preview class and seeing what best meshes with you and your child (and your crazy schedule of course!). But overall, Robert's classes are a bit more spirited and laid back in some ways and Lori's classes may do more for your child's overall development, partly due to the fact that she has narrower age specific classes instead of broad mixed age classes.
Q&A with Robert Bernstein, Music Together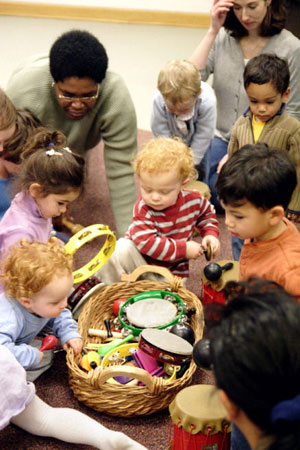 Culture Mama [CM]: What do you like most about teaching?
Robert Bernstein [RB]: I have been enjoying interacting with families during classes as well as watching them interact with each other. Music Together really succeeds when it is a shared experience (between teacher/families and between child/parent or caregiver), so I have come to appreciate how important and fun that aspect of the classes can be.
[CM]: How will a child benefit from taking your Music Together classes?
[RB]: Music Together is designed to be an introductory and interactive music making environment (for infants to 4 year olds) and is intended to be experiential, so it is a very "hands on" class. It also promotes family interaction and sharing the experience of making music with each other.
[CM]: Is enrollment available now?
[RB]: Enrollment is currently available for the spring session which starts on April 21st.
Q&A with Lori Burkhardt, Kindermusik
Culture Mama [CM]: What do you like most about teaching?
Lori Burkhardt [LB]: KIDS and FAMILIES! And watching them have 'aha' moments experiencing the joys of music and seeing faces light up as entering the room, knowing they will have a fun-filled, musical (and learning) experience. Parents, too!!
[CM]: How will my child benefit from taking your Kindermusik classes?
[LB]: When you take class with me you get a Kindermusik educator that has a Bachelor of Science degree in Music Therapy, excellent customer service, fair studio policies, flexible make-up policies, and 16 years of experience teaching Kindermusik (since 1995). In a Kindermusik class, I lead a group of parents and their children through joyful activities, using music and movement to nurture skills in the whole child: cognitive, physical, social, emotional, and language.
[CM]: Is enrollment available now?
[LB]: Families may enroll at anytime for Spring, Summer and Fall classes. Tuition is prorated for late enrollment and home materials (CDs, literature books, activity books, instruments) are generally in full. Families may also preview one class for free at anytime with a reservation.
[CM]: A big thanks to Robert and Lori for helping our kids grow and making our daily life a little brighter, happier, and musical of course.