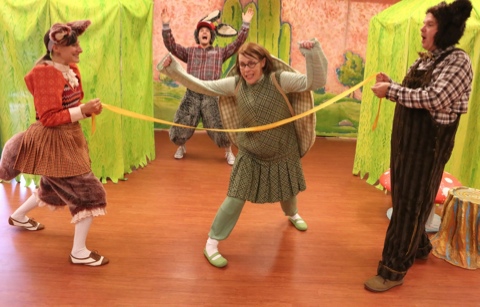 The Missouri Humanities Council, First Bank, and Whole Foods Market, with Ready Readers and the Imaginary Theatre Company present "The Tortoise and the Hare" on Sunday, January 26, 2014, 1 to 3:30 pm, Clayton High School Commons, 1 Mark Twain Circle, Clayton.
Starting at 1 pm, children ages 3 to 10, can participate in fun interactive activities, face painting, a magician, clowns, and more. The performance of "The Tortoise and the Hare" begins at 2:30 pm.
Tickets are $12 per person in advance and $15 per person at the door. Purchase your tickets securely online. For group reservations, contact Lisa Greening at lisa@readyreaders.org. Questions? Call 314.564.8070.
The Tortoise and the Hare, a production of The Imaginary Theatre Company
One of Aesop's fables springs to life in this fun new musical adaptation. Henry is a racer, one of the fastest bunnies the forest has ever seen. Shelly's a tortoise, his quietly devoted best friend. Henry has always been the star of the show, until one day Shelly starts to have some dreams of her own. With the help of their forest friends, Shelly realizes her own worth and Henry finds out that sometimes being the best is not the most important thing. Run time is approximately 45 minutes. See photos from the production!
The Imaginary Theatre Company (ITC) is the resident, professional, touring ensemble of The Repertory Theatre of St. Louis. Through the use of literature, folk tales, fairy tales, and new adaptations of classic works, ITC is committed to providing the very finest in theater for young audiences and strives to bring quality performances to schools and community venues throughout the bi-state area.
Ready Readers
Ready Readers is a St. Louis-based nonprofit organization dedicated to inspiring preschool age children from low-income communities to love books and to have the emergent literacy skills necessary to become readers when they enter kindergarten. Trained, passionate volunteers read high-quality books aloud to the same classroom of children for 30 minutes every week, and then provide stimulating reading-related activities. Six times during each school year and once during the summer, the volunteer readers also distribute new books for each child to take home and keep.
Photo: Imaginary Theatre Company