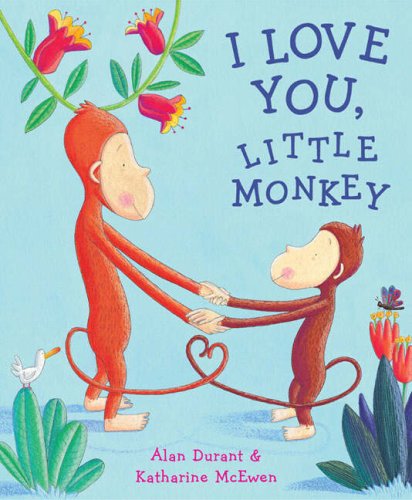 Here are some great library books that I came across recently that smartly talk about parents and kids being "naughty," the changing of the beds nighttime routine, and separation anxiety. My 3 year old daughter wants to read them over and over and clearly sees how the stories reflect her everyday life (both good and bad!).
1. I Love You, Little Monkey |  By Alan Durant
Sweet story about Big Monkey who is trying to get work done (dinner, bed making), but Little Monkey keeps making trouble. Little Monkey just wants to play and ends up crying when Big Monkey gets mad. Big Monkey and Little Monkey end up apologizing to each other about being naughty and share some hugs and love. Colorful and whimsical drawings by Katharine McEwen.
2. Musical Beds |  By Mara Bergman
Sound familiar? Do you sleep in your own bed or has your child taken over the "big bed?" This book is unique in that the Dad is putting the three kids to bed but of course, all sorts of nighttime fears and worries arise among the children and the changing of the beds ensues. There are a few potentially scary things in the book about shadows, witches, and ghost sounds, so you may want to modify the words a little when telling it to your child. Sometimes these kinds of books end up creating fears that were never there in our little ones. But my daughter actually found the musical beds component of the story kind of funny and is starting to sleep in her bed more. She keeps saying, "Kids aren't supposed to sleep in Mommy and Daddy's bed!" Oh the best part of the book from a Mommy point of view, is that at the end, the Mommy comes home and goes to sleep. And she sleeps through the night! Hooray.
3. Mama, Don't Go!  |  By Rosemary Wells
Have a clingy child who cries when you leave? Rosemary Wells's book hits home, featuring a little cat named Yoko who doesn't want her Mom to leave her classroom. The separations between the Mom and Yoko are gradual and a little painful, until one of Yoko's classmates mentions to Yoko, "Oh, mothers always come back… They just come back and back, and after a while you have to ask them to stay home." He also says, "I think you should give your mother a day off… Everyone needs a day off." This beautifully illustrated story softly tells preschoolers how much fun school can be, how Moms need some time to themselves, and how yes, Moms always come back.
Some useful area library resources. Remember, almost all of these library's local branches host family friendly and free events throughout the year.