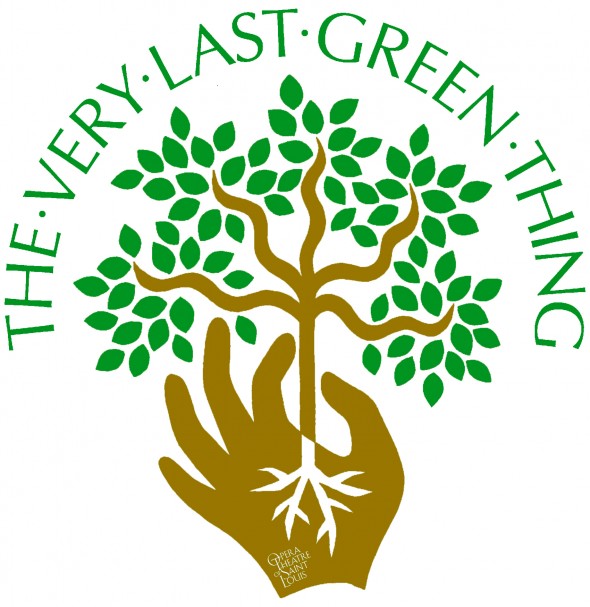 Opera Theatre of Saint Louis brings the magic of opera to children ages 5 – 14 with The Very Last Green Thing at the Touhill Performing Arts Center
Free Public Dress Rehearsal: October 19
School Day Matinees: October 21 through 25
Two Public Performances: October 26
Opera Theatre of Saint Louis continues its long-term commitment to inspiring the next generation of opera-goers with the production of The Very Last Green Thing, a young people's opera by Cary John Franklin and Michael Patrick Albano. Originally commissioned by Opera Theatre of Saint Louis in 1992, The Very Last Green Thing is an environmental fable set 400 years in the future. The 35 minute production will be conducted by Vince Lee and is directed by Doug Scholz-Carlson. The cast features 18 talented young singers (ages 9-16) from across the bi-state area, as well as former OTSL Gerdine Young Artist Daniel Brevik.
In The Very Last Green Thing, audiences journey to a classroom in the year 2413, where a group of students is raised and taught by an android. On a rare field trip "outside," a group of students discover something completely foreign to them – the very last green thing on earth, uncovering secrets from our planet's past. A beautiful story for young people, the production introduces both opera and ecological issues to audiences of all ages. Eighteen singers were selected through a rigorous audition process to perform the majority of the roles in the production:
Evan Adams – Grand Center Arts Academy
Hannah Belobrajdic – Edwardsville High School
Esther Davis – Francis Howell Central High School
Libby Hillerman – Our Lady of Lourdes School
Jordan Jones – Barbara Jordan Elementary School
Sydney Jones – Nipher Middle School
Lilly Kanterman – Forsyth School
Lauren Lundy – Notre Dame High School
Ellie McAvin – Edgar Road Elementary
Ifabunmi Muhammad-Ojedele – Crossroads College Preparatory School
Marissa Pineda – Grand Center Arts Academy
Alexander Pompian – Meramec School
Abigail Powers – Mehlville High School
Grace Robertson – Washington Middle School
Ellie Schwartz – Community School
Fiona Scott – Holy Cross Academy
Caden Self – Homeschool
Michelle Springer – Wydown Middle School
In keeping with the environmentally conscious themes of the opera, Opera Theatre is producing The Very Last Green Thing in a "green" manner, recycling and "up-cycling" a significant portion of the opera's design. Set designer Scott C. Neale has imagined a world constructed in part from clear water bottles. Stacy Snyder Harris has employed similar ingenuity to the production's costume design, as has lighting designer Joe Clapper. After the production closes in St. Louis, the sets and costumes will be re-purposed for a production at the Amarillo Opera in February of 2014, further reducing the production's overall carbon footprint.
The Very Last Green Thing is made possible through generous support from both PNC Arts Alive and the Monsanto Fund, which also serves as the lead sponsor of Opera Theatre's Monsanto Artists-in-Training program for high school students. The Monsanto Fund, the philanthropic arm of the Monsanto Company, is a nonprofit organization dedicated to strengthening the communities where farmers and Monsanto Company employees live and work. PNC Arts Alive is part of The PNC Foundation's multi-year, $2 million investment in St. Louis that supports visual and performing arts groups with the goal of increasing arts access and engagement in new and innovative ways.
Tickets
As part of the American Arts Experience, Opera Theatre offers a limited block of free tickets to the production's final orchestra dress rehearsal at the Lee Theater at the Touhill Center for the Performing Arts on Thursday, Saturday, October 19, 2013 at 3 pm. Students in grades 2-8 from across the St. Louis region will attend school day performances at 9:30 am and 11 am, Monday, October 21, 2013 through Friday, October 25, 2013. Tickets to these performances are $6 for students and teachers. Reservations for both the free orchestra dress rehearsal and the school performances can be made by phone at 314.963.4251 or via email to 251@opera-stl.org.
Two public performances will be offered Saturday, October 26, 2013 at 10 am and 11:30 am. Tickets to these performances are $10 for children and $12 for adults. Reservations for public performances can be made by phone at 314.516.4949 or online.