Here are some wonderful live performances to see with your family this winter in St. Louis. Charlotte's Web, MOMIX, Seussical, the St. Louis Symphony, and Peter Rabbit Tales are sure to entertain!
January 15-17, 2016
Florissant Civic Center presents
Charlotte's Web
A Theatreworks USA production
James J. Eagan Center
1 James J Eagan Drive, Florissant
Tickets $7
Call 314.921.5678.
Run time: Approximately one hour.
Theatreworks' production of Charlotte's Web is based on E.B. White's loving story of the friendship between a pig named Wilbur and a little gray spider named Charlotte. Wilbur has a problem: how to avoid winding up as pork chops! Charlotte, a fine writer and true friend, hits on a plan to fool Farmer Zuckerman–she will create a "miracle." Spinning the words "Some Pig" in her web, Charlotte weaves a solution which not only makes Wilbur a prize pig, but ensures his place on the farm forever. This treasured tale, featuring mad-cap and endearing farm animals, explores bravery, selfless love, and the true meaning of friendship. Read more about the production on Theatreworks USA's site.
---
January 29-30, 2016
Dance St. Louis presents
MOMIX in Alchemia
The Touhill Performing Arts Center
One University Boulevard, St. Louis
Tickets $28 to $55
Call 314.516.4949 or purchase online.
The irrepressible Moses Pendleton presents Alchemia, his new work for the dazzling dancer-illusionists of MOMIX. Just as he led audiences on a surreal journey through the four seasons in Botanica, Pendleton manipulates the four classic elements–earth, air, fire, and water–in Alchemia to produce a show about the art of alchemy, and the alchemy of art. A multimedia spectacle, Alchemia bursts with beauty, daredevil thrills and playful humor. It's MOMIX at its most magical.
---
February 12-14, 2016
Florissant Civic Center presents
Seussical the Musical
A Theatreworks USA production
James J. Eagan Center
1 James J Eagan Drive, Florissant
Tickets $7
Call 314.921.5678.
Run time: Approximately one hour.
"Oh, the thinks you can think" when Dr. Seuss's best-loved stories collide and cavort in an unforgettable musical caper! Adapted from the Broadway version, this adaptation especially for young audiences features thirteen actors and enhanced production values. Seussical is TheatreworksUSA's biggest show ever.
The Cat in the Hat is the host and emcee (and all-around mischief-maker) in this romp through the Seuss classics. When the sweet, good-natured elephant Horton hears a small cry for help coming from a small speck of dust, he promises to rescue and guard it because "a person's a person, no matter how small."
On that small speck of dust lives JoJo, an imaginative young Who. JoJo has astounding "thinks," in which anything's possible, but his parents believe this creativity is inappropriate for the son of the Mayor of Who-Ville.
Meanwhile, the one-feathered bird, Miss Gertrude McFuzz, desperately wants Horton to notice her. Maybe, she thinks, she just needs a more impressive tail. At the same time, the amazingly lazy Maysie La Bird connives, cajoles and convinces Horton to sit on her egg while she goes off on a spree.
Will the planet of Who survive? Will Horton pay attention to Gertrude? Will Maysie ever return for her egg? Dr. Seuss's beloved classic characters find themselves intertwined in an incredible crazy-quilt adventure, in which the power of imagination and the most miraculous "think" ever save the day! Read more about Seussical the Musical.
---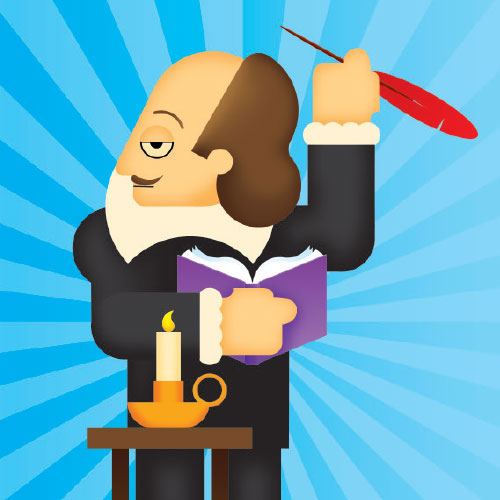 Sunday, February 21, 2016 at 3 pm
St. Louis Symphony presents
Tales of Shakespeare
Powell Hall
718 North Grand Boulevard
Tickets $8 to $19
Call 314.534.1700 or purchase online.
Take a journey through the eyes of a few of Shakespeare's most adventurous characters. Magic and mischief will follow you as his exciting stories unfold before your eyes and ears. Through music and the ancient art of storytelling, children and families will connect with the language and themes of some of Shakespeare's most popular plays in an immersive, theatrical celebration. Featuring Mendelssohn's A Midsummer Night's Dream and more.
---
March 11-13, 2016
Florissant Civic Center presents
Peter Rabbit Tales
An Enchantment Theatre Company production
James J. Eagan Center
1 James J Eagan Drive, Florissant
Tickets $7
Call 314.921.5678.
Run time: Approximately one hour.
"Once upon a time there were four little Rabbits, and their names were – Flopsy, Mopsy, Cotton-tail and Peter…." These famous opening lines of "The Tale of Peter Rabbit" have enchanted young audiences for over one hundred years with the exploits of a charming hero, who, going against his mother's wishes, has adventures (and misadventures) in Mr. McGregor's garden. Beatrix Potter created an instant classic with the little blue-coated rabbit who we recognize as both boy and rabbit, wild and civilized, and who has become an icon of childhood since he first hopped out of the pages of a story book and into children's hearts. Enchantment Theatre Company is delighted to collaborate with Frederick Warne & Co. and Penguin Books UK to present the authorized theatrical version of Peter Rabbit™ Tales.
Meet Peter Rabbit and Benjamin Bunny, Beatrix Potter's beloved characters, as they escape from Mr. McGregor, outfox Mr. Tod and rescue the Flopsy Bunnies from the disagreeable badger, Tommy Brock. When Benjamin's children disappear, he goes to his cousin, Peter Rabbit, to help him find the bunnies. But Peter thinks he's had quite enough of adventure, remembering his youthful escapades in Mr. McGregor's garden. As the cousins reminisce about their past adventures, their friends – Squirrel Nutkin, Mrs. Tiggy-Winkle, Jemima Puddle-duck and Mrs. Tittlemouse – gather to encourage Peter on this one last quest.
In celebration of Beatrix Potter's 150th birthday anniversary, Enchantment Theatre brings her captivating stories to life. Using fantastic masks, whimsical puppets, gorgeous scenery and original music, the magical, marvelous World of Beatrix Potter™ comes alive on stage.
Top Photo: Mark Garvin, Enchantment Theatre Company