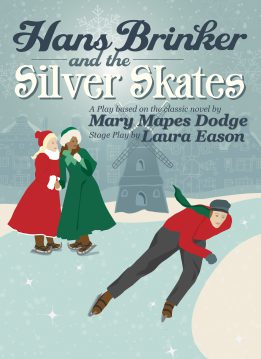 Hans Brinker and the Silver Skates
A play based on the classic novel by Mary Mapes Dodge
Stage play by Laura Eason
A Metro Theater Company Production
Grandel Theatre
3610 Grandel Square
December 8–30, 2017
"A wonderful way to share the spirit of the season"
— Talking Broadway
In this timeless story, Hans and Gretel Brinker strive to provide for their family and prove their own worth by entering a local speedskating contest – first prize is a pair of gleaming silver skates! The play culminates with a spectacular St. Nicholas Day race on the stage of The Grandel Theatre stage. Hans Brinker and the Silver Skates celebrates generosity, helping others, and is an exhilarating tale of courage and determination.
The original novel by Mary Mapes Dodge has been in print since 1865 and is credited with popularizing the sport of speed-skating in the United States. Metro Theater Company presents a modern interpretation of this timeless tale adapted by House of Cards screenwriter Laura Eason.
Recommended for adults and young people 2nd–8th grade. Approximate run time is 70 minutes without an intermission.
Know before you go! Read the Hans Brinker and the Silver Skates education guide.
Public Performances
December 8–22
Fridays and Saturdays at 7 pm AND Sundays at 2 pm
Saturday, December 23 at 2 pm
Tuesday-Saturday, December 26-30 at 2 pm
Friday, December 29 at 7 pm
Tickets
Adult: $20
Student/Military/Senior (55+): $16
Groups of 10 or more: $14/ticket
Orchestra Box (seats 4): $72
Order tickets today via MetroTix.
Parking
There is ample metered street parking in front of the Grandel.
Questions?
Contact Michael Perkins, Community Engagement Manager at michael@metroplays.org or call 314.932.7414 x106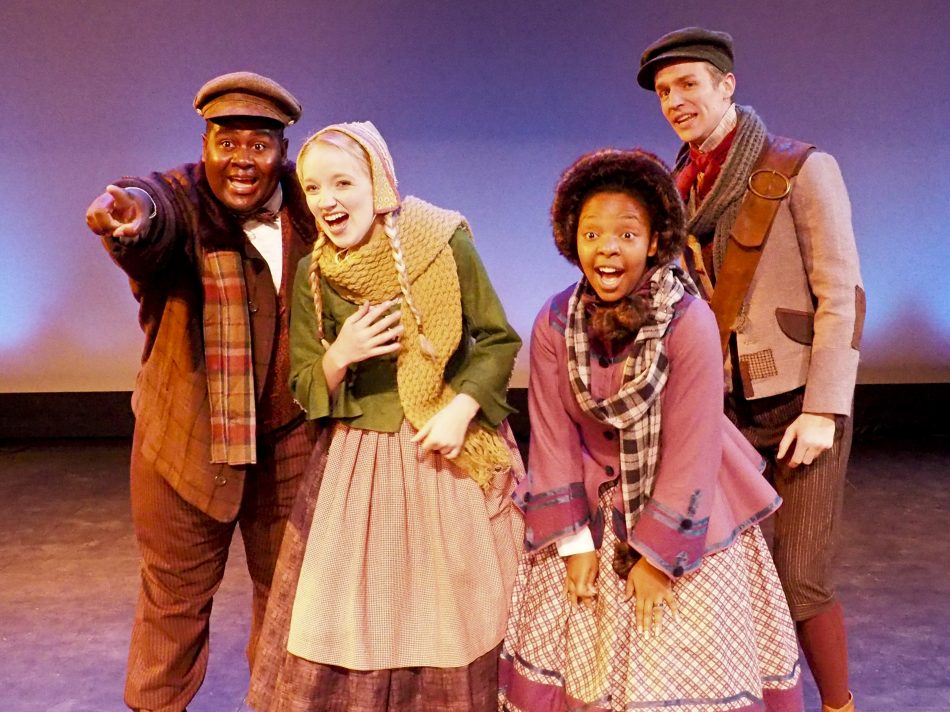 Synopsis
In a small Dutch town near Amsterdam, industrious teenager Hans Brinker and his younger sister Gretel yearn to participate in December's great ice skating race on the canal, despite them owning only wooden skates.
The siblings must work to support their family while their mother cares for their father, Raff, who has been bedridden for 10 years after a fall from a dike. The Brinkers can't afford school and must all work to support the family; they're looked down upon, especially by the wealthy Katrinka Vos and Carl Voost, because of their low status.
But Hans has a chance meeting with a famous (though mysteriously gruff) surgeon named Dr. Boekman and persuades him to examine the Brinkers' father. He diagnoses pressure on the brain, which can be cured by a risky and expensive operation.
Hans offers his own money to pay for his father's operation. Touched by this gesture, Dr. Boekman provides the surgery for free. Hans overcomes his pride and accepts help from his friends Heidi and Peter: they loan steel skates for Gretel and himself to use in the race Gretel wins the girls' race, but Hans lets Peter — who needs it more —win the Silver Skates in the boys' race.
Mr. Brinker's operation is successful, and he is able to remember where he's hidden a bag of guilders to help the family, as well as the circumstances surrounding a pocket watch that belonged to Dr. Boekman's son. This discovery helps the doctor start to reconcile with his son, and the Brinker family goes on to live a long and happy life.
Cast
Erika Flowers-Roberts – Heidi Von Gleck
Erick Lindsey – Dr. Boekman/Carl Voost
Roxane McWilliams – Musician
Jennifer Theby-Quinn – Dame Brinker/Katrinka Vos
Spencer Sickmann – Raff Brinker/Announcer
Antony Terrell – Peter Von Holp/Young Man/Vollenhoven
Pete Winfrey – Hans Brinker
Sigrid Wise – Gretel Brinker
School Matinees
Are you a teacher? Performances for school groups are Tuesdays-Fridays, December 5-22 at 10 am. Tickets are $8. For information about booking a school performance, contact the Community Engagement Manager at community@metroplays.org or 314.932.7414 ext. 106.
Give
Inspired by the intelligence and emotional wisdom of young people, the Metro Theater Company creates professional theater, fosters inclusive community, and nurtures meaningful learning through the arts. Please consider making a tax-deductible contribution to this wonderful nonprofit organization. About two-thirds of the Metro Theater Company's annual operating budget comes from contributed income. Every gift makes an important impact!
Photography: Metro Theater Company