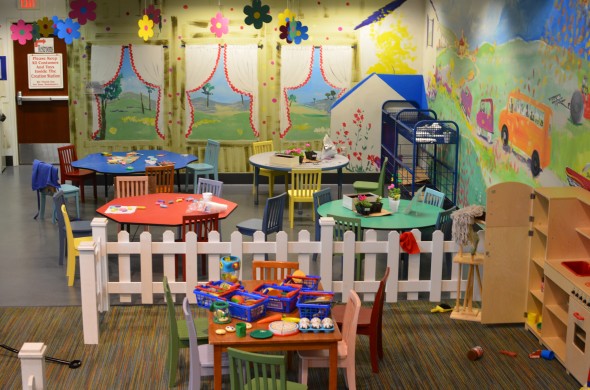 Located inside the "vintage" (i.e. a little scruffy and quirky but pretty fascinating) Museum of Transportation is the preschooler fun-filled playroom, the Creation Station. Wooden trains, blocks, play cars, miniature parking garages, magnetic trucks, an enormous pirate ship, dress up clothes, a puppet theater, play kitchen, arts and crafts, books, and more await you and your child (age five and under). The open play sessions are one hour.
Summer schedule (May 1 through September 5)
Monday, Tuesday, Wednesday, Friday
9:15 to 10:15 am; 10:30 to 11:30 am; and 11:45 to 12:45 pm
Thursday
9:15 to 10:15 am; 10:30 to 11:30 am; 11:45 to 12:45 pm; 1 to 2 pm
Admission fees to the Museum of Transportation
Adults: $6
Children (age 5 to 12), Seniors, Military, and Teachers with valid ID: $4
Children 4 and under: FREE (two kids free admission per paying adult)
Members: FREE (six guests admitted per visit)
Admission to the Creation Station is extra (in addition to the general admission fee to the museum)
The cost is $1.50 per person per one hour session in addition to regular museum admission. Ages 1 and older. Admission is based on availability, tickets are sold on a first-come, first-served basis. No reservations or pre-sales accepted.
Membership
If you plan on going to the Creation Station with your child several times throughout the year, consider buying a tax-deductible membership (and check with your workplace for any matching gift programs). The $60 conductor membership level gives you 35 Choo Choo Choose Stamps that can be used for Creation Station and/or train ride admissions.
Tips
* The morning Creation Station play times fill up quickly, so be sure to arrive early to secure your spots. Especially with school being out for the summer, many of the play times are busy.
* Pack a snack or lunch. The snack bar at the museum is mainly pretzels, hot dogs, and popcorn.
* Encourage your child to help clean up a little before he/she moves on to the next play area inside the Creation Station. During busy play sessions, the place can get a little chaotic.
* There is a nice miniature train that you can ride around the museum's large parking lot. The scenery is kind of blah but kids love riding the train. The $4 train ride (buy your ticket at the front desk inside the museum) lets you go around a loop two times and you even get to ride a tram to the train. There's no food or drink on the tram or the train, so make sure everyone is post bathroom and snack break. The train leaves on the hour, and 20 and 40 minutes after the hour. Detailed train schedule.
* Explore the old train cars in the rail yard. Our favorite is the Monsanto tank. My daughter calls it an echo chamber, so break out the Broadway tunes inside!
* There is an old bookmobile located outside of the museum that sells used books for $2 and under. It has odd hours, but take a peek if you catch it on an open day. We've found some wonderful out of print children's books.
* The Creation Station is available for birthday parties on the weekends. Book early. Most time slots are filled two to three months in advance.