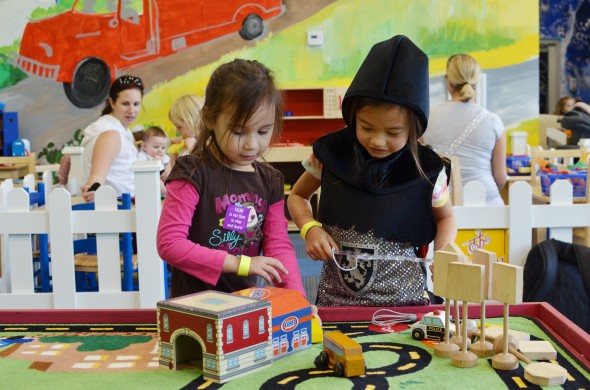 Pretend play, art projects, puzzles, mazes, toy cars, trains, and more are ready for your child (5 years old and under) to explore at the Creation Station, located inside the Visitor's Center of the Museum of Transportation. The newly redesigned and light filled play room is now open on select Sundays in September, October, November, and December, in addition to regularly scheduled weekday sessions. The open play sessions are first come, first served, and last one hour. The Creation Station is wonderful for play dates as the space is just the right size to keep track of children and most activities encourage a variety of social interactions.
Fall Family Days
Sunday, September 2
Sunday, September 9
Sunday, September 30
Sunday, October 7
Sunday, October 21
Sunday, November 4
Sunday, November 18
Sunday, December 2
Sunday, December 16
Sunday session play times are: 11:15 am, 12:30 pm, 1:45 pm, and 3 pm
Weekday schedule (Call to confirm, 314.965.6212. As of this writing, the weekday play times will change again in November, but the schedule has not been confirmed yet.)
Now through September 8
Monday through Friday: 9:15 am, 10:30 am, 11:45 am, and an additional session at 1 pm on Thursdays only.
Starting September 9 (Fall Schedule)
Tuesday through Friday: 9:15 am, 10:30 am, 11:45 am, and an additional session at 1 pm on Thursdays only.
Admission Information
Admission to the Creation Station is extra, in addition to the general museum admission fee. The Creation Station is $2 per person per one hour play session. Ages 1 and older. Members may receive free Creation Station admission depending on their membership level. No reservations or pre-sales accepted.
Admission to the Museum of Transportation is: adults $8 (13 years old or older), children $5 (3 to 12 years old), and members are free.
Tips
* The earlier morning Creation Station play sessions tend to fill up quickly, so try to arrive 20 minutes or more before the session start time to secure your child's spot.
* The snack bar offers reasonably priced pretzels, yogurt, cheese sticks, hot dogs, chips, sweets, juice boxes, and more.
* The miniature train that kids and their caregivers can ride around the museum grounds runs through November. Tickets are $4 per person, unlimited rides. Train schedule.
* Tickets to the museum, Creation Station, and train rides add up to a pricey visit rather quickly. If you think that you might visit the Creation Station and ride the miniature train more than two times during the year, consider becoming a member. Membership levels and benefits. Your membership gift is tax-deductible. Also, check with your workplace for any matching gift programs.
* The Creation Station is available for birthday parties on the weekends. Book early as many time slots are filled months in advance.
* Take some time to visit the old trains in the area above the Visitor's Center. These trains offer great rambling and exploration opportunities for kids.
Photo: Jennifer Lin