Here are some great live theater events to take your family to in the next few weeks.
1. Diavolo: Friday, February 28 at 8 pm; Saturday, March 1 at 2 pm and 8 pm
The Minneapolis Star Tribune calls dance company, Diavolo, ""A wild mash-up between Cirque du Soleil and American Gladiators with Vegas-style showmanship." The company is one of the West Coast's most prominent dance companies and a designated cultural treasure of the City of Los Angeles. Composed of modern dancers, athletes, gymnasts, ballet dancers, martial artists, actors, and stunt performers, Diavolo pushes the boundaries of dance through its dynamic movement and signature use of colossal set pieces, including skateboard ramps, a 15-foot staircase, an 18-foot aluminum and steel spinning wheel, and a giant cube that turns into a pyramid. A Dance St. Louis presentation. Approximate run time is 90 minutes with one intermission. Best for children 6 years old and up.
Touhill Performing Arts Center
Tickets $33 to $55
2. The Tortoise and the Hare: Friday, February 28 at 7 pm (doors open at 6:30 pm)
The Imaginary Theatre Company produces wonderful children's productions with great singing, dancing, and humor. This well known Aesop's fable springs to life in a fun new musical adaptation. Henry is a racer, one of the fastest bunnies the forest has ever seen. Shelly's a tortoise, his quietly devoted best friend. Henry has always been the star of the show, until one day Shelly starts to have some dreams of her own. With the help of their forest friends, Shelly realizes her own worth and Henry finds out that sometimes being the best isn't the most important thing. Best for children 5 to 8 years old (who can stay up late!). Approximate run time is 45 minutes.
St. Louis County Public Library Headquarters, Main Reading Room
FREE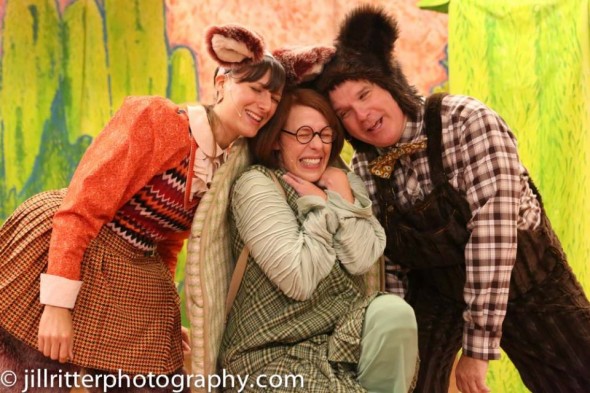 3. The Ugly Duckling & The Tortoise and the Hare: Friday, March 21 at 7:30 pm; Saturday, March 22 at 2 pm; Sunday, March 23 at 2 pm
Lightwire Theater, in conjunction with Corbian Visual Arts and Dance, bring their use of cutting edge technology, moving sculpture, and dance to an unforgettable theatrical experience. The Ugly Duckling and The Tortoise and the Hare use Corbian's signature electroluminescent puppetry. Hans Christian Andersen's The Ugly Duckling has helped generations of children understand one of humanity's universal struggles. Lightwire Theater brings this classic story to the modern stage offering hope to us all as we root for the ugly duckling who exemplifies resilience and heroism along the way to becoming a beautiful swan. Aesop's fable, The Tortoise and the Hare, now more than 2,500 years old, continues to drive home the time-tested adage, "Slow and steady wins the race." Lightwire Theater, with its dazzling visuals, poignant choreography, and creative use of music ranging from classical to jazz to pop, literally brings these beloved tales into a new and brilliant light. Best for children 3 years old and up. Approximate run time is one hour.
Florissant Civic Center
Tickets $7
4. The Snail and the Whale: Saturday, March 22 at 2 pm and 5 pm; Sunday, March 23 at 1 pm and 4 pm
Tall Stories, last seen at COCA in the supremely entertaining production of The Gruffalo, present their latest collaboration with author Julia Donaldson and illustrator Axel Scheffler. Through songs and storytelling, The Snail and the Whale is about a tiny snail who takes a ride on the tail of a humpback whale. When the whale finds himself beached, he suddenly needs the help of his tiny passenger. How will the snail save him? This journey is presented through the eyes of an adventurous young girl and her seafaring father. Best for children ages 3 to 10. Approximate run time is 50 minutes.
COCA
Tickets $16 to $20
Top photo: Copyright Tall Stories