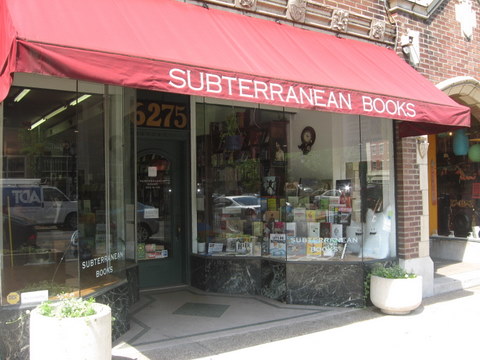 Looking for a different and almost magical story time in the St. Louis area? If you haven't experienced one with Georgy Rock at Subterranean Books at 6275 Delmar Boulevard, you're missing something quite unique.
YouTube Video of January Story Time.
A favorite storyteller in the region, Georgy Rock (recently named the best storyteller in St. Louis Magazine's A-List 2010) spins tales, shares stories, warms hearts, sings, and generally captivates kids and their parents on Thursdays from 11:30 to noon at Subterranean Books. She has 30 years of experience telling stories and in 2009, was ordained a maggid, or Jewish itinerant storyteller.
Last Fall, when one of our usual Thursday morning classes was canceled, my daughter and I had a chance to hear Georgy Rock at Subterranean. Up in the cozy second loft like floor of the bookstore, Georgy welcomed all the children by name and sang/spoke her way through four books. She has a beautiful ability for creating a seamless tempo in her readings and integrating song and humor throughout the event. She also sang a couple of songs that involved hand and arm movements which the kids enjoyed. There were only about six children there when we went, infants to preschoolers.
Tips
* It is lunch time for most kids at this time, so many of the children ate a few quiet snacks and sucked down milk/juice boxes. Come prepared with some fruit or semi crumb-free snack.
* Parking on Delmar during the week at lunch time isn't too bad–you can usually find some street parking. There is also a public ramp about a block from the bookstore. Be sure to bring your quarters!
* A few doors down is a great kids store, City Sprouts. They have a lovely play area with trains and kitchen toys, plus plenty of kids clothes, gifts, furniture, and design ideas. City Sprouts also has a pretty extensive selection of Tea Collection clothing.
* Want to spend the afternoon in the area? Nice map of Delmar.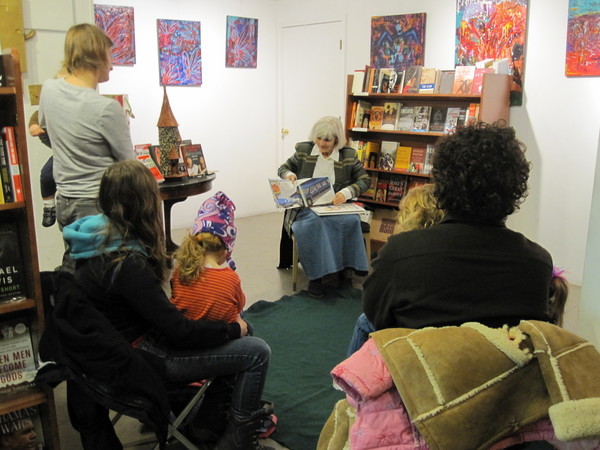 An important note: Subterranean Books is struggling financially to stay afloat, as are many independent bookstores. If you have time, browse the store before or after story time. There are some incredibly thoughtful and smart selections of children's books. We are library and bookstore junkies and were happily surprised at some of the new titles we discovered. Please remind your kids to be gentle with the books while browsing–this tiny store doesn't have much wiggle room on their inventory.